This is perhaps the kind of thing one might expect on
The Phil Donahue Show
(my generation) or
Oprah Winfrey
or what have you. To see our President use his office as a platform for such emotional pandering is sickening.
Here's the
segment
.
I don't blame Mrs. Wheeler or her husband. If such evil befell me and mine, I'm sure I want to do whatever I thought might be constructive. Nevertheless.
The basis for political discourse is not "emotionality" (see Sergeant Lincoln Osirus/Kirk Lazarus/Robert Downey, Jr.) but a reasoned conversation. This is precisely the kind of excess of the passions that Socrates feared. In his trial (see "The Apology" by Plato) he refused to bring in his family as part of his defense. He said that to do so would be to distort Justice. He wouldn't pander.
Obviously, not even the "Narcissist-in-Chief" equates himself with Socrates, but he could get a clue from him. If emotionality is what you got, you ain't got much.
It would be constructive to use research, statistics and data in the gun control debate, but we'll see continue to see overblown rhetoric on both sides.
Bedtime for Democracy.
P.S.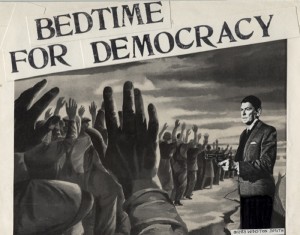 Love him or hate him, gotta LOVE Jello's wry sense of humor